Free Gun - with a full case order of labels (12 boxes).This Primark pricing gun includes:
Small, narrow profile
Consistent reliability
User friendly
Prints up to 6 positions
Uses 19mm x 9mm label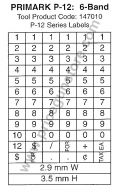 This P12 label gun has a 90 day warranty fully backed by B&B Supply. Any mechanical defect or operational issue that occurs through what is considered normal usage will be fixed, or the unit will be replaced. A Primark P12 with a manufacturer's defect discovered right after delivery will be replaced with a brand new label gun upon inspection by B&B Supply. A label gun deemed abused will void the warranty coverage. Please give us a call at 1-800-346-7820 to discuss any warranty questions in further detail.